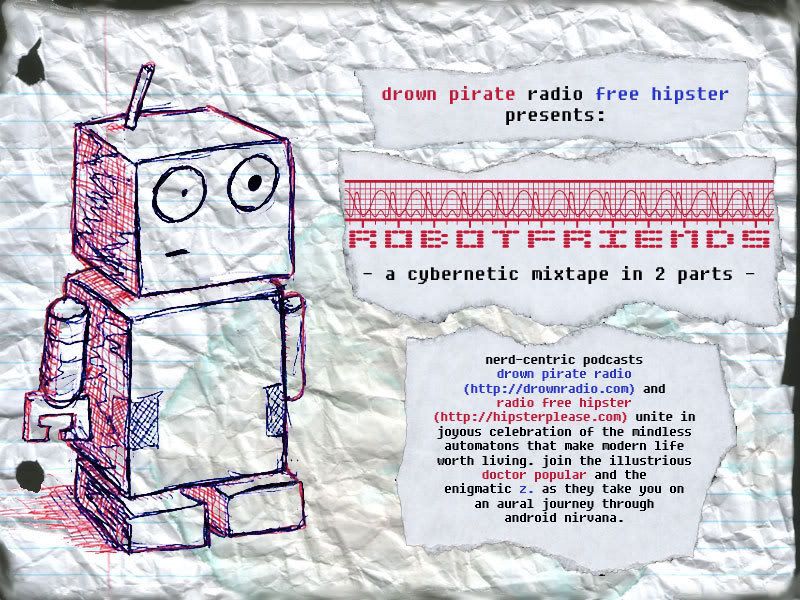 Z just announced our upcoming Robot Friends project on
Hipster Please
. The basic idea is that on February 7
th
, Z and I will each release a robot themed episode of our
podcasts
. Radio Free Hipster doesn't have a subscribe link, but you can subscribe to
Z's
blog
HipsterPlease

.com
.
Drown Pirate Radio is easy to subscribe to here.
I'm really excited about Robot Friends, I'm going to debut a new track called Robot Apocalypse featuring Schaffer The Dark Lord on vox, my beats, and scratches by Lord Illingworth.
Following the Robot Friends episode, I'll release another Drown Pirate Radio episode in late February. This time the theme will be SEX! The sex episode, titled Audio Erotica, will feature some porno soundtracks, nerdcore songs, found recordings, and dirty lounge songs.
As a special treat for the sex podcast I got an interview with porno director and Vivid Alt business manager Eon Mckai and adult movie starlet Dana Dearmond. How cool is that? Very! It is very cool.
We talked about the evolution of porno soundtracks and the role of music in alt porn. Dana even geeked out talking about chiptunes and one of her favorite bands the Nintendudes.