Thanks to everyone who took part in the pictureless comic challenge. The goal was to encourage artists to experiment around with the comics medium, and I believe that all the artists involved found some inspiration from the restrictions. If you haven't seen them yet, be sure to check out all the entries here.
Thanks Jason Scott, Josh Ellingson, and ApeLad for judging… and a special thanks to the head judge Leef Smith from Mission Comics who is also donating a copy of the Abstract Comics Anthology to the winner. So without further ado, let's hear what Leef has to say:
Wow, this was tough, even with the benefit of having three other judges offer their opinions with a lot of agreement!

First off, just based on the sheer variety of story telling text techniques I think J. David Eisenberg's Tales from the Store ~ Watch Story was a clear winner. I counted over 10 different ways text was manipulated to convey different story elements and emotional tone! Very impressive! But for just the simplicity, beauty and impact, Ellen Forney's We Fell In Love Last Summer was a VERY close second. I love this comic and would read more pictureless comics from her. Doc Pop's entry was a great blend of both good technical technique and conveying story and tone. Loved the text flowing between panels!, and the use of color. Very strong entry with a good solid look.

So in short:

1. J. David Eisenberg's Tales from the Store (about the watch)

2. Ellen Forney's We Fell In Love Last Summer

3. Doc Pop's Flea Family Circus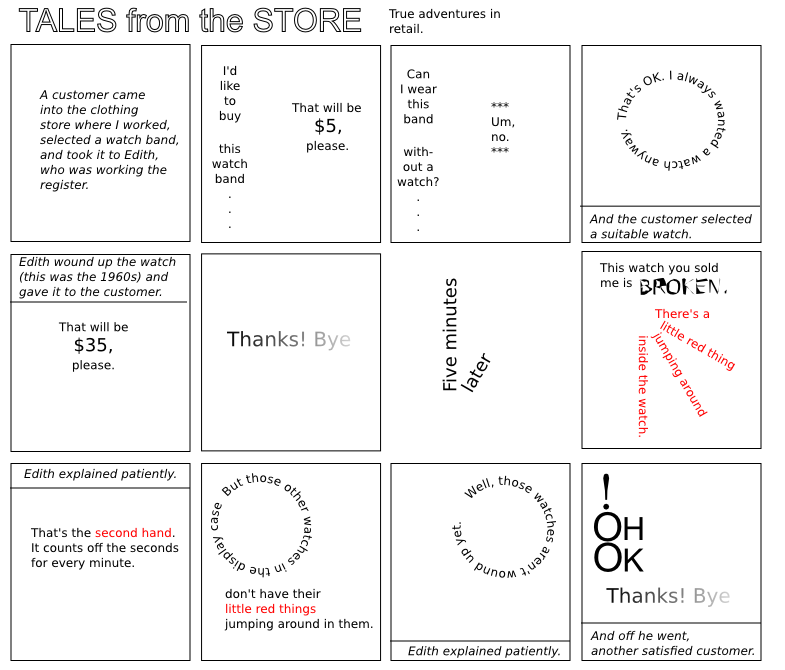 by J David Eisenberg (original link here)
Congrats David, I'll get in touch with you about shipping your comic soon. I'd like to hear from other people about their thoughts on the entries and future challenges in the comments below.