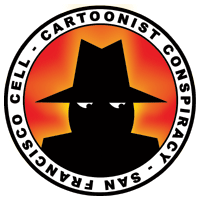 Our first meeting of the San Francisco Cartoonist Conspiracy was at Muddy Waters on 16th and Mission Street. That was about 5 years ago. We had an awesome group, but didn't care for the venue, so we moved around a few times eventually settling in at Church Street Cafe on Church and Market Street, where we've been for a few years.
Apparently, the CC members have been pondering change lately, so the next meeting (Thursday January 28th) will be at the brand new Borderlands Cafe on Valencia Street. I'm really excited that the CC may be coming back to the Mission, but I also happen to be a big fan of Borderlands Cafe. In fact, a few of the cartoonists that were at the very first meeting and I have been meeting at Borderlands on Sunday mornings for informal drawing and chatting time.
If you are interested in joining us, come to Borderlands Cafe on 870 Valencia St and look for the group of cartoonists. Please introduce yourself, I promise we are a friendly group. The meeting will be from 6:30 till 9pm.