SoundYeah is a new sound app by Pill & Pillow that takes the tired old concept of an MPC style drum layout and mixes it with on the fly recording and gesture based controls. I've loved the idea since I saw the early test version in July and now I finally get to play with it.
The sounds: Most music apps come preloaded with samples, but SoundYeah is designed for live sampling the environment around you. This is a great idea, but I'm not going to go onstage and build a kit in front of people. I love working with my own samples, but if there isn't any way to save those samples this app is pretty useless for live shows. Oh, SoundYeah also deletes all of your samples everytime you exit the app… so be sure you don't quit it if you wanna be able to make that sound again.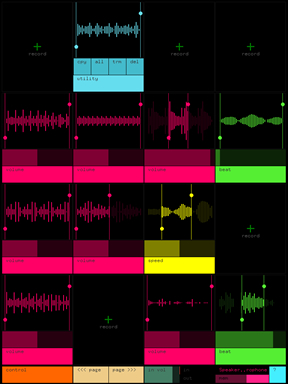 The gestures: definitely the coolest concept of SY is the gesture based controls. To play a sound once, just tap on it with one finger. To loop the sound, tap with two fingers. To stop the sound, tap with three fingers. Clockwise motions make the sample play forward, counterclockwise make it go backwards. Dragging your finger from a button controls the playback speed. While the app is extremely responsive, the difference between a normal note "trigger" and one of the gestures is far too sensitive. It's very difficult to just make a simple beat without the buttons interpreting minute gestures as advanced controls. Even with a lot of practice I couldn't consistently make a beat without having some sample play backwards or something.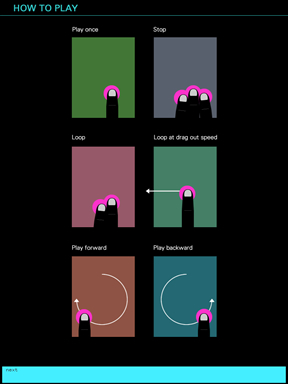 I still can't wait to play with this app more, but I'm kind of bummed that it's more of a noisemaker app than something I could use to make music onstage. The nice part is that many of these issues could be fixed with an update. The idea is solid, all the app would need to be useful would be:
1. Save and load samples
2. Save and load kits (of your samples and settings)
3. Make the gestures less sensitive (so notes are easier to trigger consistently)
4. Work with other apps. This can be down with Sound Copy, which is the equivalent of copy/paste for audio between apps. Or allow this app to run and record audio from other applications running in the background.
My overall impression of the app is positive, but only because I've been waiting for more gesture based sampling apps since the iPad first came out. I don't know that the typical consumer will get much out of this app in it's current state. SoundYeah is available on iTunes for $5.