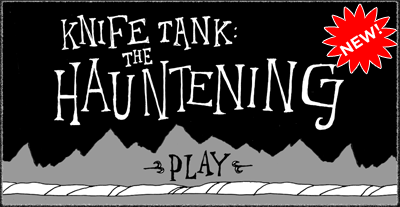 A few weekends ago, some friends and I spend 24hrs at Noisebridge creating a follow up to our original
Knifetank
game. We got far, but decided to spend 6 more hours polishing the game into a gem. The end result is
Knifetank: The Hauntening
, a web based point and click adventure that works with most browsers (including SafariMobile and other mobile browsers).
The Knifetank character is a ton of fun to work with, but I was surprised at how fun it was to use him with a "choose your fate" kind of game. Just about every clickable item is full of jokes, and I think the art is some of Mike's best yet. The game feels fantastic on touch devices too, so try it out on your iPad if you get the chance.
The game was coded by Lilia Markham. Mike Hales did all of the fantastic art. The eerie music was written in MIDI GM by Crashfaster. The writing and basic game design was by Doctor Popular (me). To be honest though, everybody had a big hand in the writing in the game… especially at 4am (17 hours into our dev cycle) when started going a little crazy.
Crashfaster plans on releasing The Hauntening soundtrack next week on our bandcamp page, with remixes by myself and others.
Enjoy the game, click until you find every joke possible, leave comments below (no spoilers!), and feel free to ask me any questions here.