It's been decided that today will be my last day working as the community manager for
Sincerely
(makers of
Postagram
and other thoughtful apps). In the year and a half that I've been here, I've had some awesome opportunities, and I wanted to recap some of my personal favorite projects in this post.
Being an avid mobile photographer, I loved making our "
Doc's Guide To Mobile Photography
" series. With the help of my friend Dave, we made 22 videos in this series, with nearly 100,000 total views. My favorites were the simple camera hacks episode:
The big guide to Hipstamatic:

And DuelPic (because puppies):

I also got to share articles about cool new Kickstarter projects or brand new releases from apps like Hipstamatic. Looking back on the blog now, I'm really happy with all the content we've shared.
During my time here I organized and attended dozens of Instawalks (a style of instant photowalks that I helped start and coined the term for before working at Sincerely). We even built Instawalk kits and put together this SLICK how-to-run-an-instawalk video.
As the community manager, I also grew and interacted with our users as the voice of our products on Twitter, Instagram, Facebook, Tumblr, etc. I'm particularly proud of the voice our Instagram and Twitter feed for @postagram has had for the last year.
Through these channels, I heard the most wonderful stories from our users, that I was able to help re-broadcast through our feeds and beyond. Like this heartwarming story of 2 lovers and some Postagrams
As the voice of Postagram, I also appeared on various other media to talk about mobile photography as well as cross promote our brand.
Aside from all that community stuff, I felt really lucky to work in an environment with such a great culture. Thanks to my time here, and especially the constant nagging of my co-worker Paul, I got into climbing and fitness. We had a board in the office for keeping track of pull ups and other exercises. It's great to work at a place where it's not weird to see people doing pushups near their desks. In fact, Paul and I even built this AWESOME climbing "wall" in our office over a weekend, which still sees a tremendous amount of usage.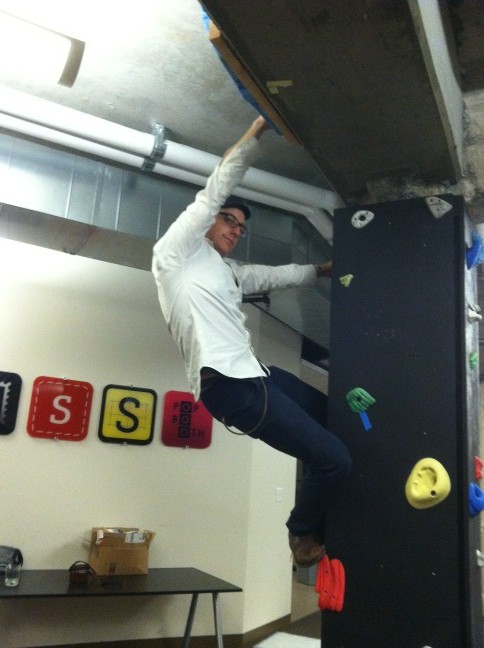 Along with a great team, I also enjoyed working with Pepper Gram… our office puppy! Between Facebook updates and blog posts, I had a chance to help teach Pepper how to skate and I even helped run her Twitter account 🙂
It's been a very rewarding experience here, and I consider myself very lucky to have spent the past year doing so many cool projects. Now that Sincerely has eliminated their community manager position, I'm not sure what I'll be up to next. I've already had some conversations about getting back into game design or possibly working with some other photo related start ups, but I may take a little time to start working on my own personal projects again. I'll no longer be using the @postagram handle, but I'll continue posting my mobile photography thoughts and work on Instagram, Flickr, and Twitter as @docpop.
And of course I'm always reachable through email.